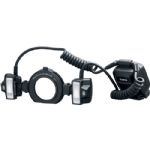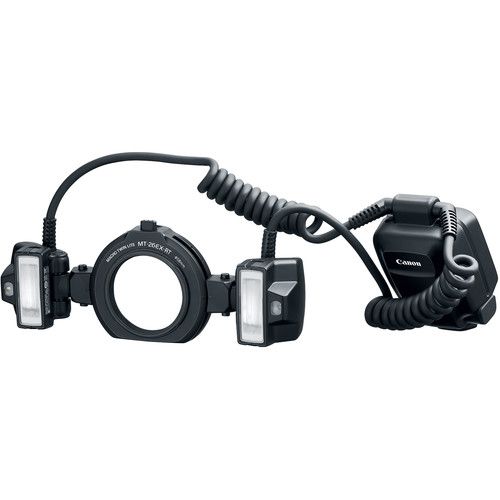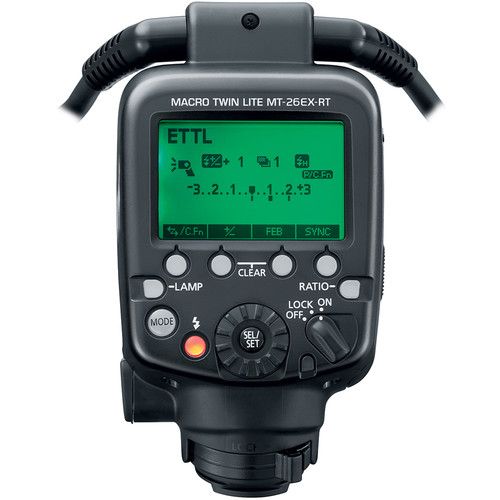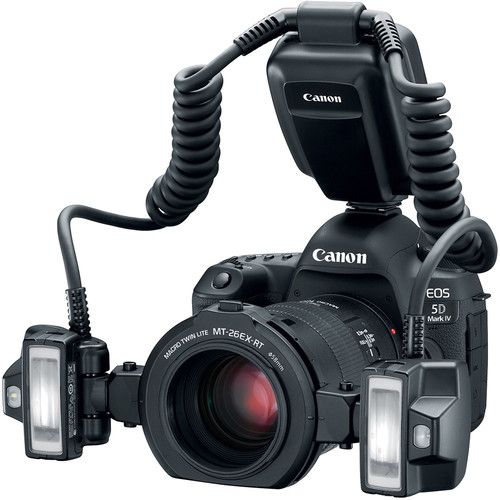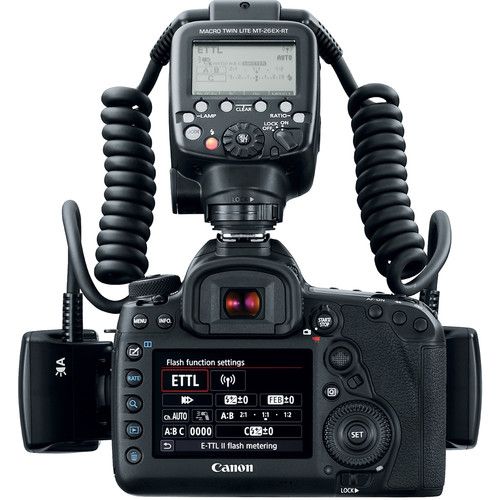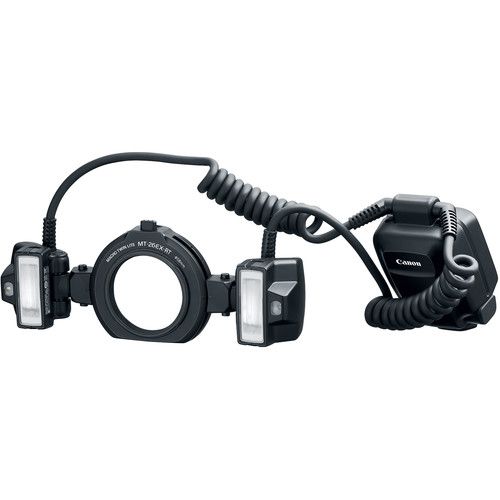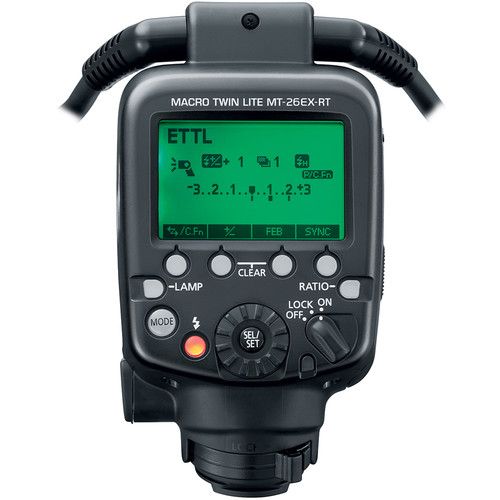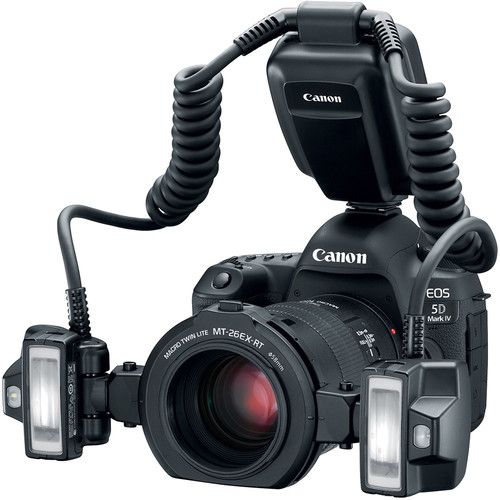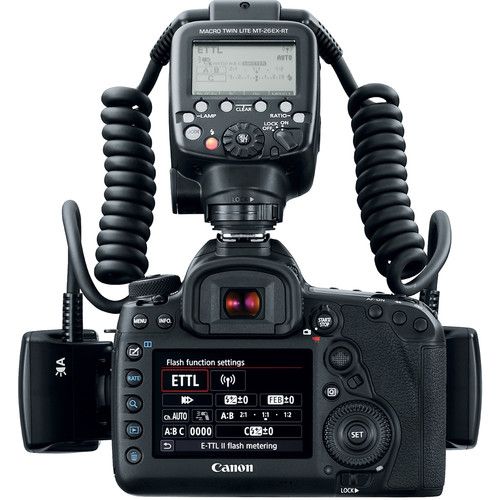 Canon MT-26EX-RT Macro Twin Lite
$909.00 $989.00
You Save: $80.00 (8%)
In Stock
Ships in 1-2 Business Days
Item: 300520
Manufacture: Canon
Condition: New
Free delivery
Need Help? Call Us: 855-425-2525
Offering the flexibility of radio flash capabilities with a design for close-up shooting, the MT-26EX-RT Macro Twin Lite from Canon uses a a pair of flashes to evenly illuminate subjects when working with a macro lens. When both flash heads are simultaneously fired, a guide number of 85.3' at ISO 100 is possible, and extensive manual adjustment allows you to dial in settings down to 1/512 power. Both flash heads are detachable and, using the 2.4 GHz wireless triggering system, the heads can be easily positioned around the subject for more controlled and dynamic lighting configurations, including the ability to easily integrate other flashes into the setup.
When attached to the lens, the heads can be rotated up to 60° horizontally and 45° vertically and each includes a removable diffuser for further adjustment over light quality. Additionally, an illuminated dot-matrix LCD screen lets you make adjustments to the flash in both bright- and low-light situations, its updated white LED focus assist lamps aids in achieving accurate focus on close-up subjects, and the recycling time with 4 AA batteries is from 0.1-5.5 seconds.
Lens Compatibility
EF 50mm f/2.5 Compact Macro
EF-S 60mm f/2.8 Macro USM
EF 100mm f/2.8 Macro USM
MP-E 65mm f/2.8 1-5x Macro Photo
EF 100mm f/2.8L Macro IS USM with separate Macrolite Adapter 67
EF 180mm f/3.5L Macro USM with separate Macrolite Adapter 72C
TS-E 50mm f/2.8L Macro
TS-E 90mm f/2.8L Macro
TS-E 135mm f/4L Macro
Type Flash
Mount Shoe
Guide No. 85.3' / 26 m ISO 100
Vari-Power Manual: 1/1 - 1/512
Flash Duration 1/1300 - 1/67,000 sec
TTL Dedication Yes
Off-Camera Terminal None
Recycle Time Approximately 0.1 - 5.5 Seconds
Flash-Ready Indicator Yes
Side Wings Yes
Charge Indicators Yes
Display Yes, (backlit)
Power Source 4x AA Alkaline, Rechargeable NiMH Batteries
Power Unit Dimensions (WxHxD) 2.7 x 4.4 x 3.5" / 69.5 x 112.5 x 90.0 mm
Dimensions (W x H x D) 9.1 x 3.6 x 1.9" / 232.2 x 91.1 x 49.1 mm
Weight 1.25 lb / 570 g
Packaging Info
Package Weight 2.5 lb
Box Dimensions (LxWxH) 9.75 x 7.5 x 6.0"
• Canon MT-26EX-RT Macro Twin Lite
• Mount Ring
• 2 x SCH-E1 Color Filter Holder for 600EX-RT
• Soft Case