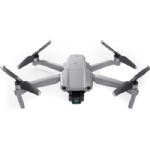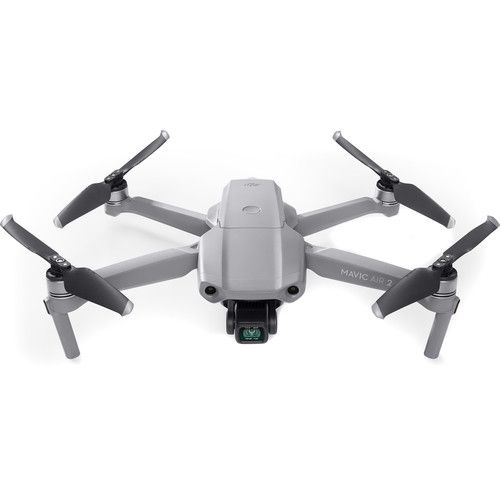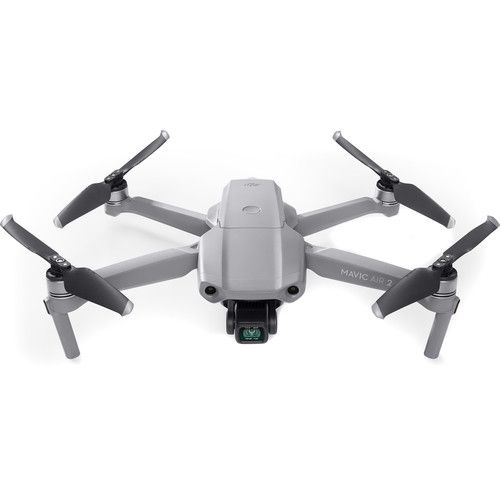 DJI Mavic Air 2 Fly More Combo New edition 8K
$2,039.99 $2,199.99
You Save: $160.00 (7%)
In Stock
Ships in 1-2 Business Days
Item: 447905
Manufacture: DJI
Condition: New
Extended Warranty Coverage:
Free delivery
Need Help? Call Us: 855-425-2525
Extended Warranty Protection Plans
The Mavic from DJI packs features you once thought possible only on much larger platforms into a compact quadcopter that is snappy, agile, and captures high-resolution images. The drone features an advanced flight control system that draws on a host of sensors — including a ground-facing camera, ultrasound, GPS, dual redundant IMUs, and more — to keep track of where it is flying in 3D space and even avoid collisions. The Mavic works in tandem with DJI's GO mobile app for accessing settings, getting a telemetry readout, viewing a low-latency video feed, and even editing and sharing your footage. In addition traditional joystick style controls, you can fly with simple tap-based commands, and the Mavic can even recognize gestures for the perfect selfie.
In addition to the stand accessories, the Fly More Combo features two additional flight batteries (three total), two additional propeller pairs five total), a Battery Charging Hub, and a Shoulder Bag to carry the Mavic around in.

Long Range Flying
OcuSync Transmission Technology OcuSync long-range-transmission technology is capable of relaying a signal up to 4.3 miles line-of-sight while supporting 720p HD video (1080p HD transmission in short-range mode). Every time you fly, OcuSync scans a range of available frequencies to find and use the one with the least interference to give you more reliability and control. Tightly integrated with the DJI GO app, OcuSync transfers vital statistics of the Mavic to you in real time, and can also be used to download photos and videos at up to 40 Mbps while flying Efficient Design Custom-designed, high-energy-density batteries; an optimized propulsion system; and advanced power management give the Mavic a much longer flight time than many compatible platforms in its size class. This results in flight times of up to 27 minutes under ideal conditions and up to 21 minutes for average flights
Integrated Camera and Gimbal
3-Axis Gimbal Stabilizer Using three specially miniaturized brushless motors and advanced algorithms, the camera moves in the opposite direction to the Mavic, cancelling out unwanted movement for the smoothest possible video DCI & UHD 4K and Full HD Video The Mavic Pro camera shoots 4K video (up to 4096 x 2160) at 30 frames per second and Full HD 1080p at 96 frames per second, so you can create incredible slow motion. Its minimum focusing distance is just 19", making it perfect for everything from the ultimate aerial selfies to landscape shots ActiveTrack Subject Tracking Modes With ActiveTrack, just tell the Mavic who to track and it handles the rest. No GPS bracelets or transmitters are required. The Mavic has been trained to detect and recognize a number of common subjects including people, bike riders, vehicles, and even animals. Once you have marked your subject, you can fly around them to create a huge variety of shots, depending on the mode you are in. As the Mavic is tracking, you can even select exactly where you want the subject in the frame
Three modes are available:
Trace - Follow behind or in front of your subject, or circle it as it moves
Profile - Fly alongside your subject
Spotlight - Keep the camera trained on your subject while you fly almost anywhere 12MP Raw/JPEG Still Photos Every photo you take with the Mavic can be as big as 12 megapixels, with the ability to save in DNG raw or JPEG. You can even flip the camera 90-degrees for portrait oriented shots, just like you do with your phone Selfie Mode with Gestures Put away your controller and phone to get that perfect, natural selfie. All you need to do is put the Mavic in Gesture Mode and walk in front of it. The Mavic will automatically detect you. Raise your arms or wave to it to make it follow you, and when you're ready for your photo, make a box shape with your fingers. The lights under the Mavic's front arms will start to flash, and you will have three seconds to strike your pose before it takes a photo Tripod Mode Tripod Mode caps the Mavic's maximum speed at just 2.2 mph, while the control stick sensitivity of the remote controller is dulled to give you the precision you need for accurate framing. It is also great for flying indoors or other small spaces where the Mavic's normal speed may make it more challenging to fly
Flight Control System
FlightAutonomy FlightAutonomy is the Mavic's brain and nervous system: a complex network of hardware and software that includes five cameras, GPS/GLONASS, a pair of ultrasonic range finders, redundant sensors, and a group of 24 CPUs to process and fuse all of this information Navigation System The Mavic is able to position itself accurately in a range of environments, beyond what is possible using basic "optical flow" technology, which depends on a single downward-facing camera and assumes that the ground below is always flat. Mavic is able to sense its environment in 3-dimensions and react to it, ensuring it hovers steadily, whether it is high up on the side of a cliff where downward sensors have no target, or under a forest canopy where satellite positioning is blocked and the ground is covered in uneven markings and obstacles Precision Landing Precision Landing technology means the Mavic is able to automatically land almost exactly where you took off. Every time you take off, the two downward-facing vision sensors record a burst of video of the ground pair it with satellite coordinates. When you tell the Mavic to fly home, it will return to that coordinate, match the video, and land back at your feet Collision Avoidance As the Mavic flies, it scans the world around it, creating a 3D map that tells it exactly where it can fly and what it needs to avoid. Because it uses vision processing, it can see up to 98' in front and can accurately measure distance up to 49' in front, making it significantly more accurate than sonar based avoidance technologies. When the Mavic detects an obstacle and sees a way around it, it will simply adjust its route to fly around it. If it can't see a way around, it will slow to a stop gently and hover until you tell it what to do next.
This obstacle avoidance system is activated in every Intelligent Flight Mode, including all ActiveTrack modes, TapFly, and Terrain Follow. If you use Automatic Return to Home, it switches on too, so that as the Mavic makes its way back to you, it won't bump into anything in its path. Avoidance is effective when flying at speeds up to 22 mph Sport Mode Sport Mode was designed for fun, giving the Mavic a top speed of 40 mph, all the while ramping up agility and responsiveness, to give you a taste of drone racing. You can also use it to film something fast, or zip out to catch a shot before the moment passes. Even in Sport Mode, the Mavic will stop immediately if you let go of the controls Dual-Sensor Redundancy In flight, the Mavic uses its compass to tell it where it is heading and the Inertial Measurement Unit (IMU) to tell it how it is flying. An interruption in the data flow from either of these may cause it to fly less reliably, which is why the Mavic has not one, but two of each. Whenever the system detects an inconsistency in one, it switches to the other, keeping your flight steady and reliable Terrain Follow When you are flying over changing terrain, like following bikers riding uphill, the Mavic's Terrain Follow function uses height information gathered by the on-board ultrasonic system, and its downward-facing cameras to keep you flying at the same height above the ground even as the ground moves. Just set the height from the ground you want — from 9 to 33' — and focus on getting the right shot
DJI GO Mobile App
DJI GO is your Mavic's control center. When your phone or device is connected to the Mavic, it shows you everything the camera sees in near real-time, so you can set up and frame every shot as if you are actually there. It also gives you full manual camera controls for photos and videos, including ISO, shutter, and file format. It even lets you fine tune your Mavic so that it flies exactly how you want it to Fly-by-Phone Sometimes a phone is all you need to fly. Not only does the Mavic support flying on your phone with virtual joysticks, but you also have full access to all of its Intelligent Flight Modes: TapFly, Trace, Spotlight, Profile, and Circle Tap Flying When you tap on your phone's screen, software translates your touch into a heading, including whether you want it to climb or descend. When you want to change direction, just tap somewhere else on your screen and the Mavic will smoothly turn to the new destination Shoot. Edit. Share. Automatic video editing templates, simple video editing functions, and easy photo and video management bring together the tools you need to make epic videos right in your phone. All you need to do is choose the shots you think will amaze, which you can then share straight to Facebook, YouTube, Twitter, Instagram, and more, as well as SkyPixel, DJI's own community dedicated to aerial imaging
DJI Goggle Compatibility
The separately available DJI Goggle are FPV goggles designed to make flying totally immersive. The feature two 1080p LTPS displays with a wide 85° angle of view to give you a bird's eye view of the world around you. Built-in OcuSync connectivity means that it links directly to the Mavic and not through a cable or a Wi-Fi link to the controller. This seamless connection yields a delay of only 120 milliseconds
Intelligent Flight Batteries
The Intelligent Flight Battery has its own integrated battery-management system that takes into account everything from remaining voltage, amount of power being used, temperature, and more to calculate remaining flight times, so you always know when to head home. It also has a host of protection mechanisms in place to prevent overcharging and over draining, both of which can damage a LiPo battery permanently. When placed in longer term storage, LiPo batteries should only be kept at 50% charge. Any more or less could cause permanent damage. If left unused, DJI Intelligent Flight Batteries will discharge power until 50% to maintain good health If you live in a cold place or plan to fly on a winter break, low-temperature protection will activate. This controls available propulsion power based on the temperature of the battery, so that only a fully-warmed-up battery can offer full power

Performance
Maximum Speed Sport Mode: 40 mph / 65 km/h (no wind)
Maximum Ascent Speed Sport Mode: 16.4 ft/second (5 m/second)
Maximum Descent Speed Sport Mode: 9.8 ft/second (3 m/second)
Flight Ceiling 16,404' / 5000 m above sea level
Flight Time Up to 27 minutes (no wind at a consistent 15.5 mph / 25 km/h)
Hover Time Up to 24 minutes (no wind)
Flight Distance Up to 8' / 13 km (no wind)

Flight Control System
GPS Mode GPS / GLONASS

Obstacle Detection System
Sensor Range Precision Measurement Range: 2 to 49' / 0.7 to 15 m
Detectable Range: 49 to 98' / 15 to 30 m

Vision Positioning
Velocity Range Up to 22.4 mph (36 km/h) at 6.6' (2 m) above ground level
Altitude Range 1 to 43' / 0.3 to 13 m
Operating Environment Surface with clear pattern and adequate lighting (> 15 lux)

Radio Controller
Frequency 2.4 to 2.483 GHz
Communication Distance 4.3 miles / 7 km (line-of-sight)
Transmit Power Up to 26 dBm
Operating Current 950 mA at 3.7 V
Battery Chemistry: Lithium-ion polymer (LiPo)
Capacity: 2970 mAh
Mobile Device Holder Thickness Supported: 0.24 to 0.33" / 6.5 to 8.5 mm
Max Length: 6.3" / 160 mm
Supported USB Port Types: Lightning, micro-USB, USB Type-C

Camera
Sensor Type: 1/2.3" CMOS
Effective Pixels: 12.35 million
Total Pixels: 12.71 million
Lens FOV: 78.8°
Focal Length: 28 mm (35 mm format equivalent) Aperture: f/2.2
Distortion: < 1.5%
Focus Range: 1.6' (0.5 m) to ∞
ISO Range Video: 100 to 3200
Photo: 100 to 1600
Electronic Shutter Speed 8 second to 1/8000 second
Photo Resolution Up to 4000 x 3000 (12 MP)
Photo Modes Single shot
Burst shooting: 3/5/7 frames
Auto Exposure Bracketing (AEB): 3/5 bracketed frames at 0.7 EV bias
Interval
Video Resolutions DCI 4K (4096 x 2160): 24p
UHD 4K (3840 x 2160): 24/25/30p
2.7K (2704 x 1520): 24/25/30p
FHD (1920 x 1080): 24/25/30/48/50/60/96p
HD (1280 x 720): 24/25/30/48/50/60/120/180p
File Formats Video: MPEG-4 AVC/H.264 in MOV wrapper
Photo: JPEG, DNG RAW
Recording Media 60 Mbps
Recording Media Type: microSDHC/SDXC card up to 64 GB
Format: FAT32 / exFAT
Note: Class 10/U1/V10 or faster card required (64 GB maximum size)
Operating Temperature 32 to 104°F / 0 to 40°C

Gimbal
Number of Axes 3-axis (pitch, roll, yaw)
Control Range Pitch: -90° to +30°
Roll: 0° / 90° (horizontally / vertically)

Flight Battery

Chemistry Lithium-ion polymer (LiPo)
Capacity 3830 mAh / 43.6 Wh
Configuration 3 S
Voltage 11.4 V
Maximum Charging Power 100 W
Operating Temperature 41 to 104°F / 5 to 40°C
Weight 0.5 lb / 240 g

Charger
Output Voltage 13.05 V
Rated Power 50 W

General
Operating Temperature 32 to 104°F / 0 to 40°C
Weight Including Battery and Propellers:
1.62 lb / 734 g (excluding gimbal cover) 1.64 lb / 743 g (including gimbal cover)

Packaging Info
Package Weight 10.0 lb
Box Dimensions (LxWxH) 12.0 x 10.6 x 10.3"
• DJI Mavic Pro 4K (Fly More Combo)
• Remote Controller
• 3 x Intelligent Flight Battery for Mavic Quadcopter
• 5 x 8330 Quick Release Folding Propellers for Mavic Drone
• Gimbal Clamp
• Charger
• AC Power Cable for Charger
• 16GB microSD Card
• Micro-USB Cable
• RC Cable for Mavic Controller (Lightning)
• RC Cable for Mavic Controller (Reverse Micro-USB)
• 2 x RC Cable Slider
• Car Charger for Mavic Pro
• Power Bank Adapter for Mavic Intelligent Flight Battery
• Battery Charging Hub for Mavic Pro
• Shoulder Bag for Mavic Pro
• Limited 12-Month Warranty on MC
• Limited 6-Month Warranty on Gimbal Camera
• Limited 6-Month Warranty on Vision Positioning System
• Limited 6-Month Warranty on Propulsion System (Excluding Propellers)
• Limited 12-Month Warranty on Remote Controller
• Limited 6-Month / 200-Cycle Warranty on Battery (Whichever Comes First)
• Limited 6-Month Warranty on Battery Charger