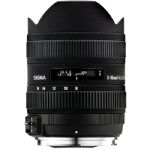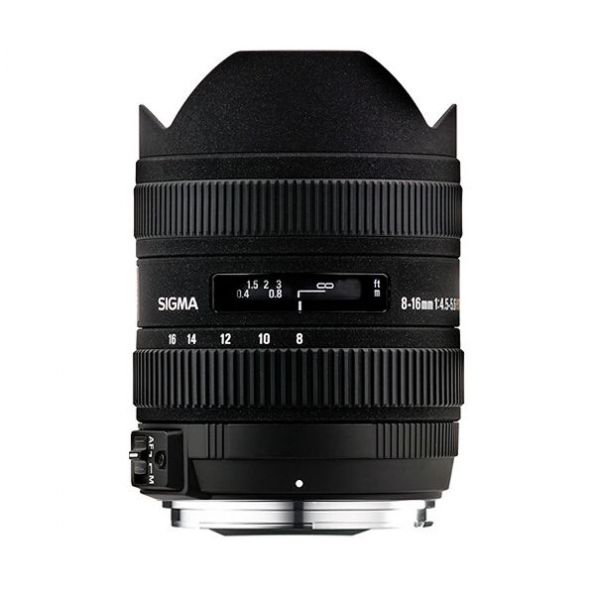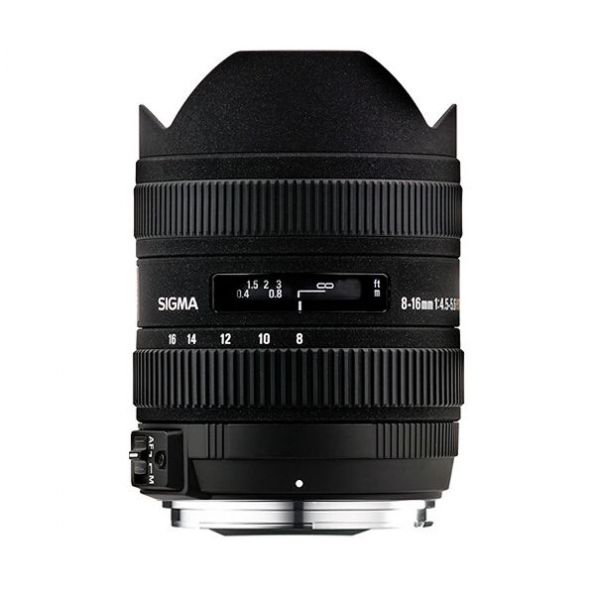 Sigma 8-16mm f/4.5-5.6 DC HSM Ultra-Wide Zoom Lens for Canon
$589.00 $749.00
You Save: $160.00 (21%)
In Stock
Ships in 1-2 Business Days
Item: 296653
Manufacture: Sigma
Condition: New
Extended Warranty Coverage:
Free delivery
Need Help? Call Us: 855-425-2525
Extended Warranty Protection Plans
Extenders, Converters, Close Up Accessories
Cables, Adapters & Storage Devices
The 8-16mm bears Sigma's DC specification, meaning it is designed to fit the APS-C digital sensor. The lens shows hard vignetting when affixed to a full-frame body, at all focal lengths. The lens is available now for around $700, and features a fixed petal-style lens hood.
Sharpness
For such a wide-angle lens, the 8-16mm provides impressive results for sharpness, especially where it's likely to be used most: wide-open (ƒ/4.5) at its widest angle (8mm). At this setting, there is a generous sweet spot of tack-sharp (1 blur unit) clarity in the center of the frame; in the corners, it's around 1.5 blur units. There isn't much point to stopping down - there is only a slightly marginal improvement at ƒ/5.6 - and after that there is slight degradation, though it isn't really noteworthy until about ƒ/11 where we note results just shy of 2 blur units across the frame. At ƒ/16 it's just over 2 blur units, and fully stopped-down at ƒ/22, it's around 3.5 blur units. Performance is similarly good at 14-16mm, though the maximum aperture gets even smaller at ƒ/29, and the results there are mediocre (around 5 blur uneven blur units).
There's a very slight drop in performance between 10-13mm - that is to say, it's excellent, but not quite as excellent as either the wide end (8-9mm) or the other wide end (14-16mm). Corner softness is just slightly higher at this middle setting, hitting 2 blur units wide open at ƒ/5. But the differences are very slight indeed.
Chromatic Aberration
CA is very slight when the lens is used at its widest angle; there seems to be some optimization in this regard, as CA seems to increase as the lens is zoomed out. It really only becomes noteworthy in the corners at 14-16mm, used wide open at ƒ/5.6-8; at other settings, it's not really noticeable.
Shading (''Vignetting'')
Corner shading is something of a staple for this lens, which shouldn't be surprising given the impressively wide angle of view that can be achieved. That said, it doesn't begin to approach what we saw in its full-frame big brother: the worst case scenario for this lens is 8mm at ƒ/4.5, where the corners are 3/4 EV darker than the center. On average you'll see between a half-stop or a third-of-a-stop of corner shading, and even at 16mm, the differential is a quarter-stop
| | |
| --- | --- |
| Name | Sigma 8-16mm ƒ/4.5-5.6 DC HSM |
| Image Circle | APS-C |
| Type | Ultra Wide Zoom |
| Focal Length | 8 - 16mm |
| APS Equivalent | 1.5x: 12 - 24mm; 1.6x: 12.8 - 25.6mm |
| Max Aperture | ƒ/4.5 - 5.6 |
| Min Aperture | ƒ/22-29 |
| Diaphragm Blades | 7 |
| Lens Construction | 15 Elements in 11 Groups, including 3 aspherical and 4 FLD elements |
| Diagonal Angle of View(Based on image circle) | 114.5 to 75.7 degrees |
| Focus Details | Internal Focus; HSM with full-time manual override |
| Front Element Rotation | No |
| Zoom System | Rotary |
| Closest Focus | 24cm / 9.4 in |
| Magnification Ratio | 0.13x / 1:7.8 |
| Filter Size | n/a |
• Front & Rear Lens Caps
• Lens Hood
• Lens Pouch