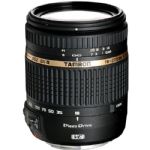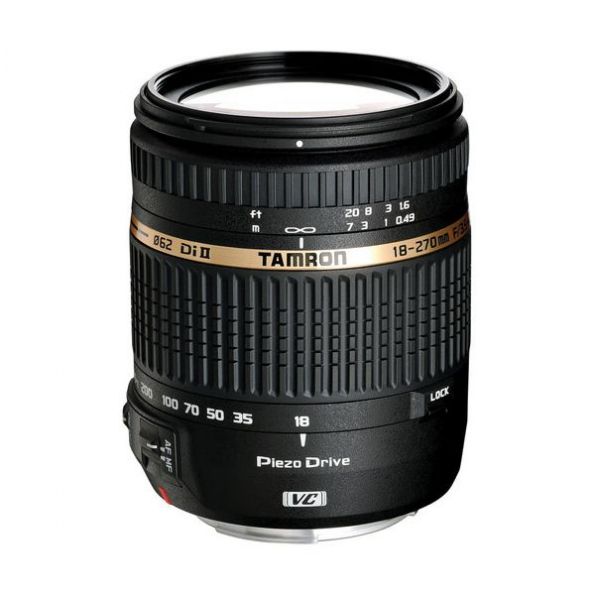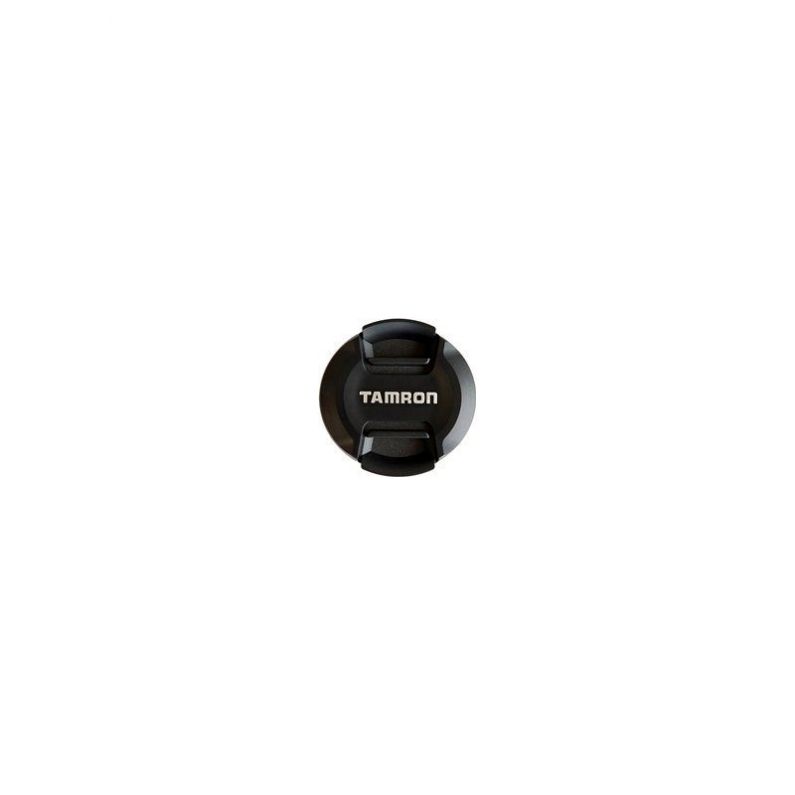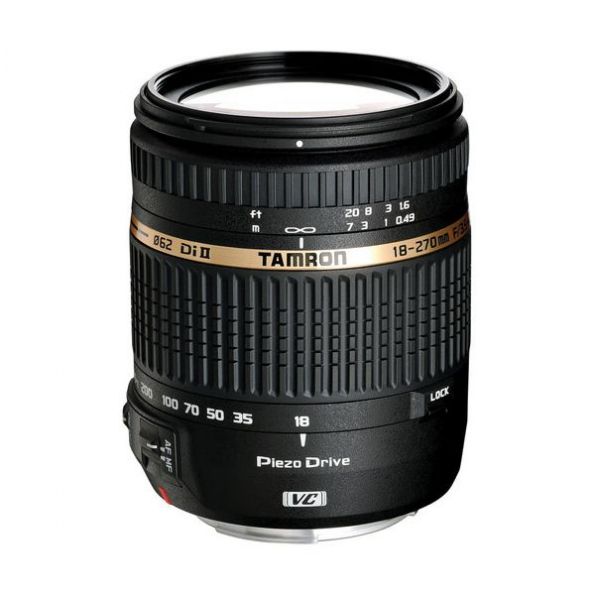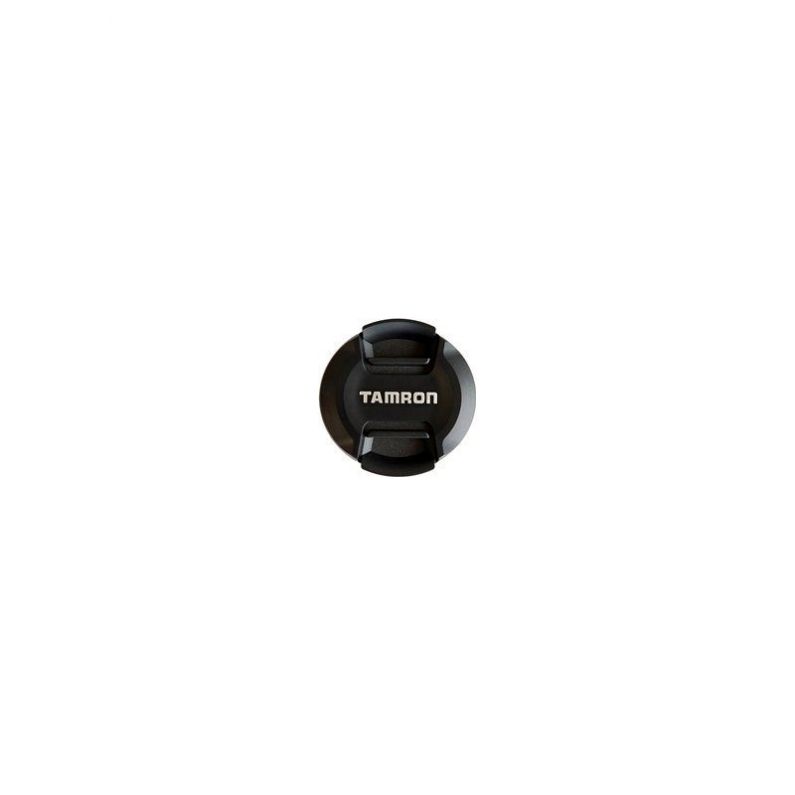 Tamron 18-270mm f/3.5-6.3 Di II VC PZD AF Lens for Canon
$419.00 $449.99
You Save: $30.99 (7%)
In Stock
Ships in 1-2 Business Days
Item: 298710
Manufacture: Tamron
Condition: New
Extended Warranty Coverage:
Free delivery
Need Help? Call Us: 855-425-2525
Extended Warranty Protection Plans
Extenders, Converters, Close Up Accessories
Tamron's next generation 18-270mm, the world's lightest, smallest 15x zoom optimized for use on APS-C- DSLRs, continues the pursuit of the ideal all-in one zoom lens. Combining prior award-winning achievements with new engineering breakthroughs yielded the remarkable 18-270mm F/3.5-6.3 Di II VC PZD (Piezo Drive). Special piezoelectric technology now delivers faster, quieter precision autofocusing. Tamron's exclusive tri-axial VC (Vibration Compensation) image stabilization, featuring three pairs of driving coils and low-function ball bearings placed around the VC optical group, combats camera shake-related image blur. It's Tamron VC that allows handheld shooting at as many as four shutter speeds slower than otherwise possible with a dramatically stable viewfinder experience. Compactness and light weight are preserved, thanks in part to the VC mechanism's newly-developed moving coil mechanism.
Defining compositional freedom the 18-270mm Di-II VC's incredible 15x zoom range provides a 35mm picture angle equivalency of 28mm to 419mm, with image fidelity assured by advanced optical design featuring LD glass and aspherical optics, working in concert to render crisp, colorful and faithful images.
RECOMMENDED FOR APS-C PHOTOGRAPHERS WHO...
Demand state-of-the-art-one zoom versatility and image quality.
Need even more subject magnification—expanding sports, nature and wildlife picture opportunities.
Appreciate the mobility of handheld shooting, but reject the image blur that it often introduces.
Want fewer lens changes, reducing instances of exposing the DSLR sensor to image
degrading dust, or missing the shot.
Want image quality far exceeding typical kit lens capabilities.
Tamron Di-II lenses are engineered expressly for digital SLR cameras with image sensors commonly referred to as APS-C, measuring approximately 24mm x 16mm. Rendering an ideal image circle for APS-C sensors, Di-II lenses also include properties to optimize digital imaging performance. Rely on Tamron Di lenses for use with DSLRs featuring larger full frame (36mm x 24mm) sensors or 35mm film SLRs.
Tamron Di-II lenses are engineered expressly for digital SLR cameras with image sensors commonly referred to as APS-C, measuring approximately 24mm x 16mm. Rendering an ideal image circle for APS-C sensors, Di-II lenses are also include properties to optimize digital imaging performance.
TAMRON'S UNIQUE STATE-OF-THE-ART IN-LENS IMAGE STABILIZATION SYSTEM
Handheld camera shake is the leading cause of blurry and unsharp pictures. Several leading companies now make lenses with built-in optical image-stabilization systems that sense the amplitude and direction of the shake and compensate by moving optical groups within the lens. Tamron's exclusive new Vibration Compensation (VC) system that's built into the Tamron AF28-300mm F/3.5-6.3 XR Di VC LD Aspherical (IF) Macro and the Tamron AF18-270mm F/3.5-6.3 Di-II VC LD Aspherical (IF) Macro lenses performs a similar function, but it executes it much more effectively due to its innovative breakthrough design.
PZD (PIEZO DRIVE) PIEZOELECTRIC AF MOTOR
Piezoelectric drive replaces traveling wave energy with more efficient standing wave energy for higher AF performance with less weight and bulk. A vital contributor to compactness, PZD focuses quickly and precisely, assuring sharper results in demanding conditions with speed that captures spontaneous moments crisply—moments that might otherwise be lost to image softness. PZD is exceptionally quiet, making it ideal for nature, live performance shooting, golf and other conditions that demand quiet operation.
LOW DISPERSION (LD) GLASS FOR GREATER LENS SHARPNESS
Low dispersion (LD) glass elements in a lens help reduce chromatic aberration; the tendency of light of different colors to come to different points of focus at the image plane. Chromatic aberration reduces the sharpness of an image, but glass with an extremely lowdispersion index, has less of a tendency to separate (defract) a ray of light into a rainbow of colors. This characteristic allows the lens designer to effectively compensate for chromatic aberration at the center of the field (on axis), a particular problem at long focal lengths (the telephoto end of the zoom range), and for lateral chromatic aberration (towards the edges of the field) that often occurs at short focal lengths (the wide-angle end of the zoom range.)
HYBRID ASPHERICAL ELEMENTS PROVIDE THE ULTIMATE IN IMAGE QUALITY AND COMPACTNESS
Tamron uses several hybrid aspherical lens elements in many lenses bearing the Aspherical designation. These innovative optics allow us to achieve the ultimate in image quality, and at the same time produce lenses that offer remarkable zoom ranges in extraordinarily compact packages. By perfecting theses cutting-edge advances for series production, Tamron has advanced the state of optical design, and virtually eliminated spherical aberration and image distortion from the high-power-zoom series.Through the effective application of Hybrid Aspherical Technology, one lens elemen tcan take the place of multiple elements without compromising performance. This is what allows us to produce remarkably compact long-range lenses that deliver a uniformly high level of image quality at all focal lengths and apertures.
INTERNAL FOCUSING (IF) SYSTEM
Internal focusing (IF) provides numerous practical benefits to photographers including a non-rotating front filter ring that facilitates the positioning of polarizing and graduated filters, and more predictable handling because the lens length does not change during focusing. Even more important, Tamron's Internal Focusing (IF) system provides a much closer minimum focusing distance (MFD) throughout its entire focusing range. In addition, IF improves optical performance by minimizing illumination loss at the corners of the image field, and helps to suppress other aberrations that become more troublesome at different focusing positions.
Lens Construction:

(Groups/Elements)13/16

Angle of View:

75°33' - 5°55' (APS-C size equivalent)

Diaphragm Blade Number:

7

Minimum Aperture:

F/22 ~ F/40 (18mm-270mm)

Minimum Focus Distance:

19.3in.(0.49m) (entire zoom range)

Macro Magnification Ratio:

1:3.8

Filter Diameter:

ø62

Weight:

450g (15.9oz)*

Length:

3.5in (88mm)**

Entire Length:

3.8in (96.4mm)**

Diameter:

ø2.9 (ø74.4mm)

Accessory:

Flower-shaped Lens hood
• Front & Rear Lens Caps
• Lens Hood